Proud owners report that giving Fastrack® Canine Gel to their dogs results in:
higher energy levels
enhanced appetite
improved hair coat
resistance to disease
more consistent stools
The right formulation
Fastrack® Canine Gel contains a special blend of live lactic acid-producing bacteria, yeast and vitamins A and E. Supplementation with lactic acid-producing bacteria and yeast has improved the microbial balance of animal digestive tracts in research studies. Fastrack® direct-fed microbials are a source of live naturally-occurring microorganisms, and are completely safe, even for young or sick dogs.
Direct-fed microbials-the natural way
Of the various bacteria present in a dog's intestines, lactic acid-producing bacteria are particularly valuable because they help break down food to produce lactic acid. Lactic acid helps regulate acidity in the intestinal tract. Birth, weaning, transporting, ration or management changes, severe environmental conditions and antibiotic therapy can lower a dog's lactic-acid bacterial population, thereby upsetting the digestive system. The unique concentration of natural, supplemental live bacteria and other ingredients in Fastrack direct-fed microbials helps to ensure a consistent population of beneficial microorganisms.
Fastrack® Liquid Dispersible

Sprinkle over wet or dry dog food each day to encourage food intake and peak performance.
¼ tsp. daily for dogs under 50 lbs.

½ tsp.daily for dogs over 50 lbs.
| | | |
| --- | --- | --- |
| 38816 | 1 pound can | 28.25 retail price |
| 36639 | case of 4 cans | 93.50 retail price |
A gel product for your convenience Fastrack® Canine Gel is ideal for newborn

puppies, mature dogs, and for any dog following antibiotic therapy. Use whenever beneficial microbial levels in the digestive tract may be reduced. For optimum performance, give the gel to your pet twice weekly on a maintenance basis.
2cc/puppy at each antibiotic treatment and at weaning

2 to 4cc/dog at breeding, whelping, at each antibiotc treatment and shipping

2 to 4cc/dog twince weekly for maintenance
| | | |
| --- | --- | --- |
| | 20cc tube | 14.75 retail price |
| 37341 | case of six 20cc tubes | 73.50 retail price |
Protect your investment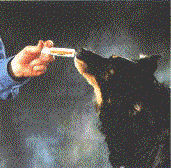 Your dog is an important investment. Read what other dog owners have to say about Fastrack® direct-fed microbials and discover why Fastrack® is a smart addition to your dog's diet:
"Conklin Fastrack® Canine Gel offers superior quality, and performance. My nine-year-old black Labrador has a darker, jet black coat, enhanced endurance and less .stool. Overall, it seems the Canine Gel allows rny Lab to enjoy healthier days for his favorite hobbies of hunting, swimming and the great outdoors!"
Jim Mach
Shakopee, MN.
"After giving the Fastrack Canine Gel to Newton, my Chesapeake Bay Retriever, he developed a darker hair coat and shed less. More importantly, less stool was produced, even though his food intake increased. I notice Newton has more energy and greater endurance during our runs along the river. The Canine Gel created a happier dog and owner."
Scott Jones
Casper, Wyo.